What if you found out that your next favorite rapper could be a 17-year-old Trini girl from out of Brooklyn, NY named Young Devyn? What if you'd found that she has already been hailed as one of the most versatile artists with lyrics that can massacre any contender, male or female, in a cypher! The industry is already taking notice! TheSource.com has called Young Devyn, "The Next Queen Of Hip-Hop?" Actress Taraji P. Henson (Fox TV's Empire) took to Instagram posting in almost all caps, "This young lady @youngdevyn is here to stay!!!! THE GAME NEEDS HER!!! I NEED Y'all to know her name. I'm all on her page right now to excuse me. She is gifted and Y'ALL NEED TO KNOW!!! THERE IS ROOM FOR EEEEERRRRYBODY! No 16-YEAR-OLD spittin like this period!!!" And when she posted about Young Devyn a second time, Devyn's Instagram nearly tripled overnight. Of course, that led to rumors of a possible Fox Empire TV appearance!
The teen lady lyricist decimated Sway Calloway's Sway's Universe yet again last week when she appeared on their Dooms Day Cypher. Normally it's ladies first, but Sway, Heather B, Tracy G, and DJ Wonder hosts of Sirius XM's Sway's Universe seemed to save Young Devyn until the end! This was not Devyn's first appearance on the show. When she first appeared on Sway's "Friday Fire Cypher", she was 16 years old and bodied the 16s. "Hip-hop is safe, the future is safe," exclaimed Sway! Atlanta producer, J. Reid (Nicki Minaj's "Chun Li" and "Barbie Tingz") created a mix for the cypher and all he could say after was, "thank you for killing my beat," as he put the second one on which she decimated as well.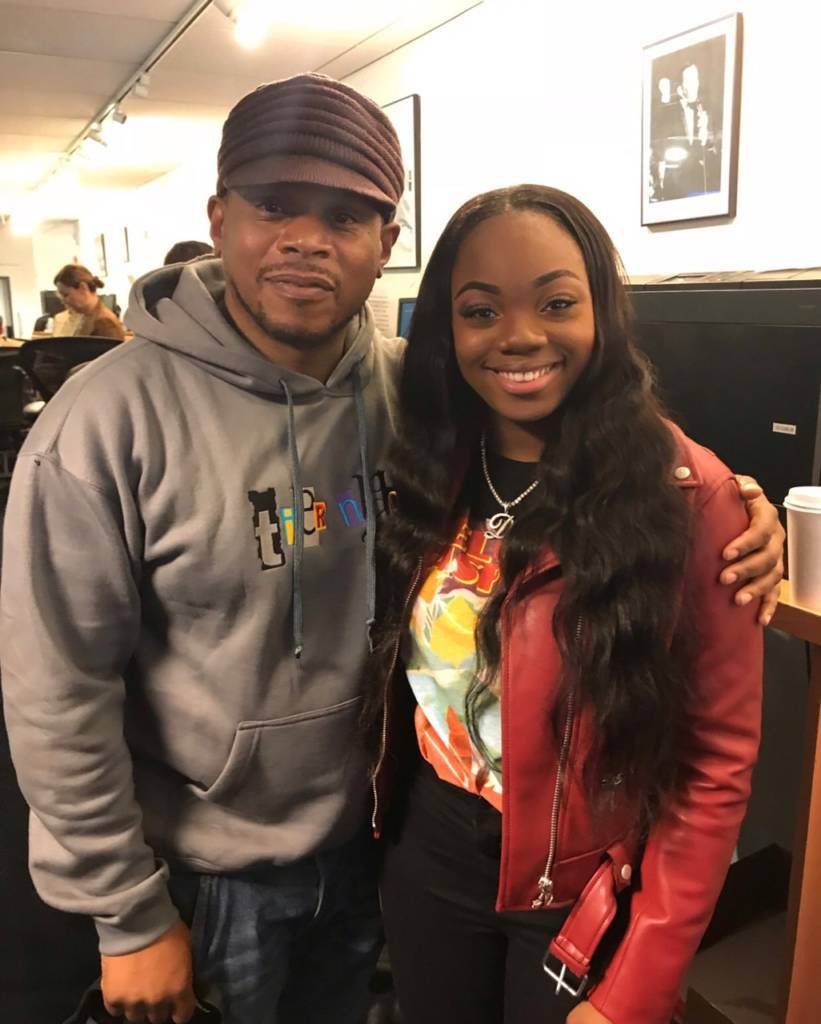 "Young Devyn was born humming to her own heartbeat," shares her mother and manager, Natasha Mason. "I know people say they started singing in church, but my little Devyn started humming her own tunes before she could even talk." At the age of 2, Devyn became very sick and almost died; but even through the ordeal, the doctors and nurses couldn't stop talking about the little girl in ICU who hummed songs all day and night. She made an impression on the medical staff and the little songs she sang helped the doctors to understand what she was feeling since she was so young. A survivor, Devyn made it through the medical scare and by Pre-K was serenading the class. In fact, by the age of 5 she was asked to sing the school song at her "Step Up Ceremony", adding her "Lean On Me" style twist to the school anthem leaving everyone amazed!
Born Devyn Ashli Millicent Tyson (birthday December 28, 2001), Devyn was raised in the typical Trinidadian household and exposed to all facets of music including ole time calypso songs by artist like Gene & Dina, Suga Bum Bum which her grandmother sings and gospel music as she spent many Sundays at her aunt and uncle's church. Like most young people it was mostly hip-hop on her playlist: Lauryn Hill, Nicki Minaj, and Meek Mill are the artists who inspire her the most, musically and lyrically.
Over time, Devyn's musical talents evolved and expanded from singing traditional Soca/Caribbean music to rapping. The singer turned emcee started dabbling in hip-hop in 2016 posting 15 second Instagram videos gaining a new fan base. People were excited and wanted to hear more, so she started working on her mixtape posting "Freestyle Friday" videos on her Instagram page to rave reviews attracting industry names like Jermaine Dupri, DJ Afrojack, Fred The Godson, DJ Magic, DJ Waffles, Budda Tha Future, and DJ Kurupt. Her freestyles went viral on FB, within 3 days the posts had 1 million views and by the end of the week was at 3 million.
The social shares of her freestyles made their way to MTV TRL host, Sway, and without even an official album, single, or music video, Young Devyn, was sitting on TRL's couch interviewing with Sway! In mid-Feb, Young Devyn, will release "On Gang", the lead song to her forthcoming mixtape, Baby G.O.A.T.! Look for the video to come out beginning of March.