5*4*20 RECORDS PRESENTS PEOPLE WITHOUT SHOES NEW ALBUM UNQUESTIONABLE OPTIMISM ANOTHER GREEN GEM TAKEN FROM THE SHOE BOX ARCHIVES. DIGITALLY REMASTERED FROM CASSETTE, TEMPOPMET TAKES YOU BACK TO REAL HIP HOP WITH DOPE RHYMES & IMPECCABLE VOICE MATCHED BY NO OTHER.
A COMPLETE MASTER OF CEREMONY, HIS STYLE IS UNPARALLELED. ABLE TO TAKE YOU THROUGH LYRICAL FITNESS GIVING LISTENERS A VIVID DISPLAY OF REFRESHING ORIGINALITY, THIS ALBUM WAS RECORDED IN 1993.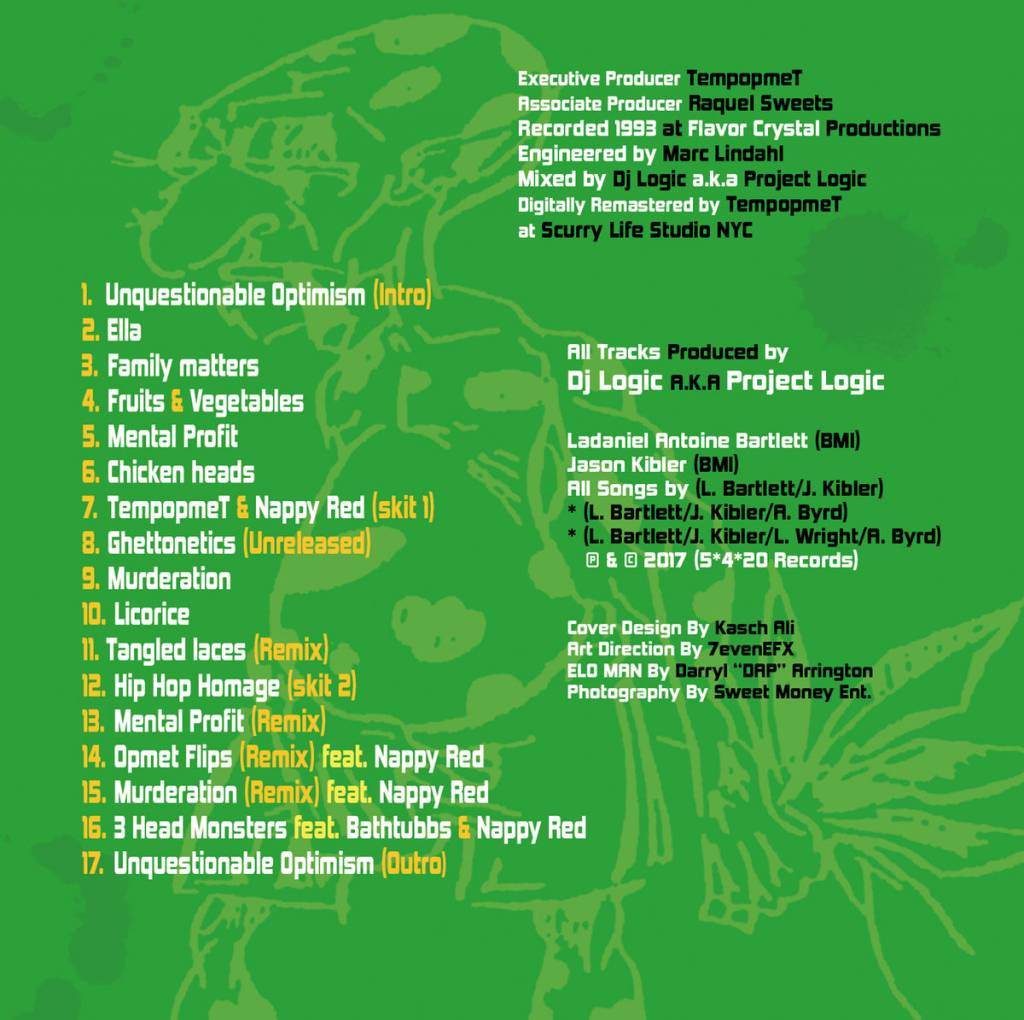 PRODUCED ENTIRELY BY DJ LOGIC, HE'S ONE OF THE MOST ACCOMPLISHED TURNTABLISTS IN THE WORLD. HE STARTED AS A MEMBER OF THE GROUP (EYE & I), WIDELY CREDITED FOR FUSING JAZZ & HIP HOP, COLLABORATING WITH THE LIKES OF VERNON REID, MOS DEF, THE ROOTS, JOHN MAYER, BEN HARPER, MELVIN GIBBS, & SPEECH FROM ARRESTED DEVELOPMENT TO NAME A FEW.
CONSTANTLY ON TOUR, DJ LOGIC'S CATALOG ALSO INCLUDES THREE SOLO ALBUMS (ZEN OF LOGIC, THE ANOMALY, PRESENTS PROJECT LOGIC) RELEASED ON ROPEADOPE RECORDS. WITH TEMPOPMET ON THE MIC & DJ LOGIC ON THE BEATS, YOU GET A MELODIC WHIRLWIND OF NEVER ENDING BOOM BAP ACCOMPANIED BY CATCHY JAZZ RIFFS, RAW ENERGY & SHARP SNARES TAKING YOU ON A MUSICAL JOURNEY EVERY TRACK ON THE ALBUM REMINDS US OF THE REASONS WE FELL IN LOVE WITH THIS CULTURE CALLED HIP-HOP…