Three-hour special airs May 2 at Noon EST on channel 45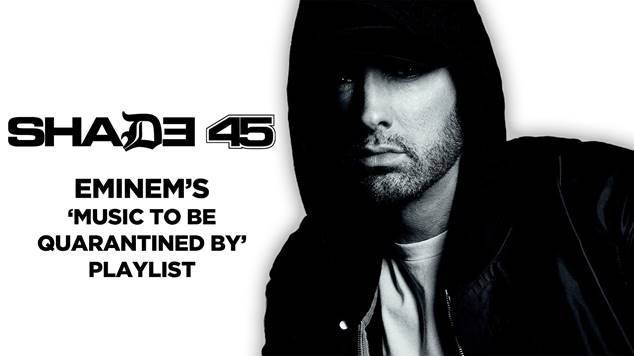 SiriusXM announced today that Eminem will host a three-hour-long special, "Music To Be Quarantined By," featuring hip-hop songs he's listening to while staying at home. The special will air on his exclusive SiriusXM channel Shade 45 at Noon EST on Saturday, May 2, as a part of the Love Your DJ Weekend Takeover.
"Music To Be Quarantined By" will spotlight songs from 2 Pac, Beastie Boys, MC Lyte, Mobb Deep, Nas, Notorious B.I.G., Run DMC, Wu Tang and more. Hear Eminem discuss the making of his playlist on Shade45's Sway in the Morning below…
Last week, The Marshall Mathers Foundation launched Love Your DJ, which offered DJs from Michigan the opportunity to submit their best custom mixes for the chance to have their mix air on Shade45 on SiriusXM, as well as receive a $313 cash payment (an homage to the Detroit area code). Select mixes will air this weekend as a part of the Love Your DJ Weekend Takeover on Shade45.
Encores of "Music To Be Quarantined By" will air on Shade 45 throughout the weekend, as well as the following week. See encore schedule below…
Eminem's "Music To Be Quarantined By" Rebroadcast Schedule:
May 2 at 5pm EST
May 3 at midnight EST; 10am EST; 3pm EST; 8pm EST
May 4 at 3am EST and 9pm EST
May 5 at 5am EST
May 6 at 9pm EST
May 8 at midnight EST
May 9 at 7am EST
May 10 at midnight EST
Over the course of his career, Eminem has sold over 130 million albums and 389 million singles worldwide. He was Nielsen SoundScan's top-selling artist of the 2000s with 32.2 million albums sold in that decade in the U.S. alone. In addition, Eminem was also named Billboard's Artist of the Decade for the same period, 2000 through 2009. Eminem has won 15 GRAMMY® Awards and an Academy Award®. His 2010 album, "Recovery," was the first album in the U.S. to ever go platinum digitally. His most recent album, "Music To Be Murdered By," was released on Jan. 17, 2020 and debuted at No. 1 on the Billboard 200 albums chart, selling 279,000 copies in its first week.
SiriusXM's Shade45 can be heard on channel 45 on all SiriusXM radios and on the SiriusXM app. Anyone who is not already a SiriusXM subscriber can download the SiriusXM app or go to SiriusXM.com/streamfree, and start listening free of charge, with no credit card or commitment required, through May 30. The SiriusXM app is available on mobile phones, tablets and computers, as well as on a wide variety of connected devices in the home including smart TVs, devices with Amazon Alexa or the Google Assistant, Apple TV, PlayStation, Roku, Sonos speakers and more. The SiriusXM app also offers additional features such as SiriusXM video, Personalized Stations Powered by Pandora that listeners can curate themselves, and an On Demand library with more than 10,000 hours of archived shows, exclusive music performances, interviews and audio documentaries.