'537 Dolphin Street' is a confident and stunning album, the product of an innovative creative cooperation between two visionary artists, hip hop producer BigBob and esteemed emcee Raf Almighty of the Baltimore duo Dirt Platoon. As their own creative duo, they are known as Big Almighty.
This album memorializes the nostalgic address of Raf Almighty's childhood. It's a raw musical trip down memory lane, wholly inspired by the city of Baltimore, the immediate vicinity of his childhood, his brethren and the dynamic experiences of living in "Charm City".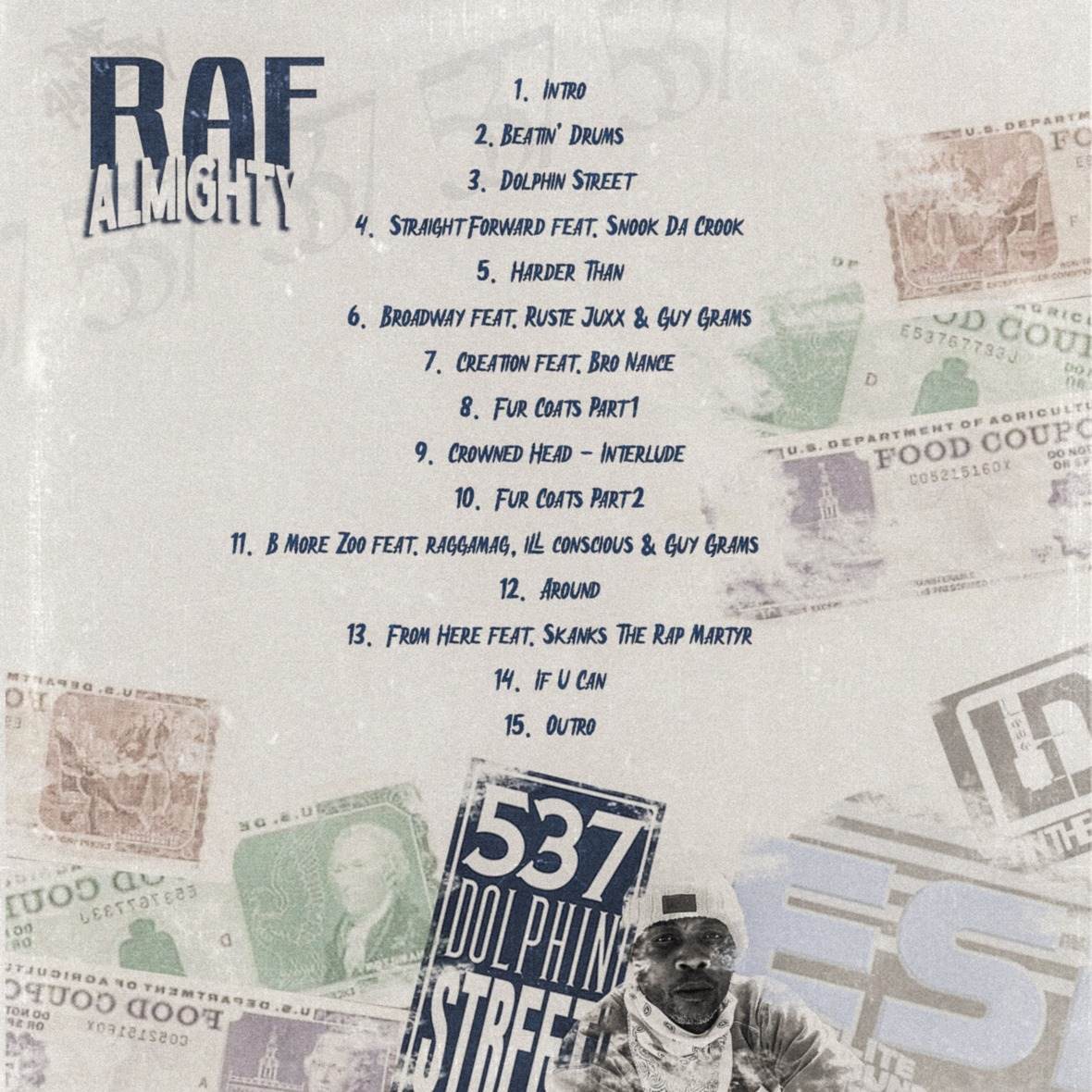 BigBob continues to instrumentally mature and evolve while still exhibiting his dark, moody cadence. He sonically sways with heavy rhythmic drum patterns bouncing effortlessly and melodically replicating the mood and tone of Raf's songwriting and vocal flow. It's 40 minutes of pure unadulterated classic hip hop. Each track tunefully shape shifts to suit the narrators.
Raf's writing aims to demonstrate his originality by displaying his ripening mic presence. His style is simple yet effective with an unmatched emotional fervor, acute delivery, formulaic flows and memorable punchlines. He recounts details stoically, vividly bringing real life to his verses.
It's evident throughout the project that the pair share similar sources for their musical inspirations. Raf pays homage directly to the hip hop influences that helped galvanize his experiences as a youth on Dolphin Street.
BigBob collaborates with LD on the Cut for cuts and mixing, solidifying their chemistry for stellar hip hop production. Art direction for '537 Dolphin Street' by Klever Skemes. Released globally by Elite Sound International.
A nostalgic trip back to the root of this intimate hip hop tale. Raf Almighty gives a personalized lyrical & visual examination of the neighborhood which captured his youthful experiences.
Consider '537 Dolphin Street' from his impressionable eyes, a city with a mélange of cultures, a cut throat climate, a very real divide and picturesque views to obfuscate the magic of his beloved "Charm City".
The footage superimposes the past and present of Dolphin Street with pictures and montages exploring the people & adventures of his life. It's a gritty and real perspective accompanied by a befitting & intriguing musical hip hop score from visionary hip hop producer BigBob with proper cuts and scratches from LD on the Cut.
Big Almighty's '537 Dolphin Street' album is now available to stream & cop via all major digital service providers